Linden Lab have blogged regarding an issue with Facebook and SL Share : An Update on SLShare Service Issues. The post explains that Facebook have recently announced that they are depreciating an old Open Graph API. The implication with this change is that all apps running version 1.0, need to update to version 2.0.
Linden Lab are on the ball with this and have updated their SL Share app to version 2.0, but things aren't complete on Facebook's end, which may mean there are problems for a couple of week. The blog post states :
This means that when using SLShare (updating status, photo uploads, and check-ins from the Viewer) you may experience some temporary problems. Please be assured that we are aware of this and any issues you encounter should be resolved once the migration period is complete.

Thank you for your patience!
So the message is clear, there may be a bit of quirkiness for a couple of weeks when using SL Share with Facebook. Now I'll be honest, I've never used SLShare, but for those who are wondering what it is, SLShare is a way of sharing your Second Life experiences on social media, such as Facebook, Flickr and Twitter and it looks rather straight forward.
The first thing to do is to ensure the toolbar buttons for SLShare are available, to do this go to me or avatar (depending upon with viewer you're using) and then toolbar buttons :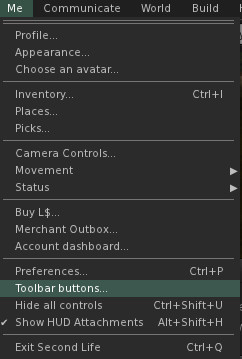 Then the toolbar buttons show up and you can drag and drop these onto your toolbars in the viewer. Hopefully, if you squint you can see there are buttons for Facebook, Flickr and Twitter.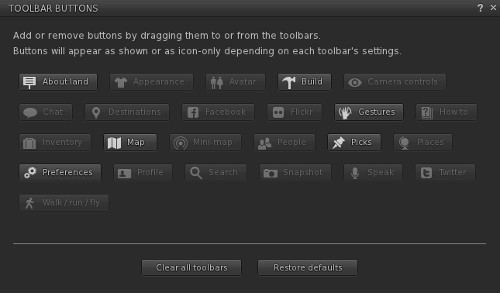 Note that my buttons for Facebook, Flickr and Twitter are dull, that's because they are already on my toolbar.